Our Video & DVD Packages
Funeral Services
Funerals are changing these days and a lot of people like to keep a memento of the service itself by way of video. At a time when emotions are high, families often don't remember certain parts of the funeral service so by having the service filmed, this ensures that at a later date when things have settled down, they can sit quietly and watch the service again. Filming a funeral can also help with the grieving process. At this time when they are thinking more clearly, they will be able to take in more things and may even notice certain friends and colleagues that may have attended the service that they didn't realise were there,thus enabling the family to thank them for their attendance and thoughtfulness.
If you would like to have a DVD presentation on the day of the service, this can be included in the video with the entire service that was filmed.
This memento can be then stored for future generations to watch or if there are family members overseas that cannot attend.
How to Order your Filming and DVD Presentation.
If you would like to book this service directly with us, then you can:
Telephone us on 03 9842 4673 at any time
You can fill in our order form online or
You can ask your selected funeral service provider to arrange it for you.
Our staff will confirm receipt of your booking.
Costs for Funeral Video Recording
We have various packages to suit your needs. Select the items required and pay on-line using PayPal by clicking on the "ADD TO CART" button.
You will be directed to Paypal where you can choose to pay using Paypal or alternatively, click on the "CHECKOUT" button to pay with your credit card.
Please fill in the order form or telephone us before making a payment.
Funeral Service at Church, Chapel or Other Venue.
(This is when filming is required in one location only)
Plus Cemetery OR Crematorium.
(This price is only available with Funeral Service booking)
Reception / Wake / Sympathy Tea
(Price available only with Funeral booking)
PLEASE NOTE:
Individual rates for burial or cremation services or reception/wakes/sympathy teas only are available on request.
We supply 3 DVD's inclusive of price, extra DVD copies are available for $10.00 each incl postage and handling (Australia only)
Cost For DVD Photographic Slideshow Tribute.
"Serenity can also create for you a personalised video Tribute by compiling selected family photographs or movies of your choice which will then be put on DVD together with a favourite music track to be played during a funeral service.
This form of memento can be part of your special contribution to your loved one and is frequently used as part of a funeral service where audio visual equipment is available."
Up to 50 pictures/photo's
Greater than 50 picture/photo's
If extra copies of either the Funeral Service recording or the DVD Presentation are required, please add this to your payment
Your photographs will be compiled with your selected music track/s and supplied on DVD.
Prices are applicable for the Melbourne metropolitan area only. Please ask us to quote for other locations
Please check with your funeral provider as they may be able to offer a special rate for our services.
Cost of hire for equipment & Operator to show your DVD
Serenity Productions can also provide Audio/Visual equipment with an Operator to present your DVD Photographic Presentation at either a church or other venue where the Funeral service or "event" is being held.
Our equipment includes but is not limited to -
A 4500 lumens projector
Large Projection Screen
DVD Player
2 x Yamaha 250W speakers
Pro Amplifier /Mixer
Attendance of technician on day of service to set up and operate equipment.
Hire of Equipment & Operator to show your DVD
** Audio equipment only can also be provided for a graveside service
Please note:
We require a minimum of 24 hours notice prior to the Funeral service commencing.
Serenity Productions extend our deepest sympathies to you, your family and friends on the loss of your loved one, and sincerely hope that this memento will offer you a loving keepsake.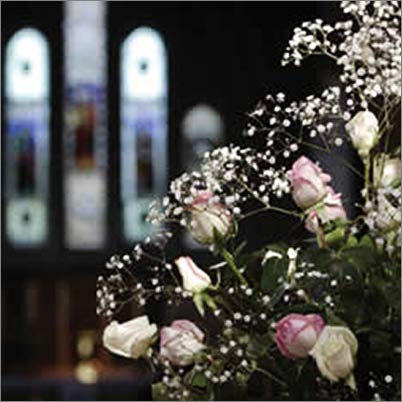 Video Funeral Live Streaming
Serenity Productions Melbourne
For Video filming or live streaming of a funeral service or to arrange for a Photographic DVD Presentation at the service, we can help.
Call us for details on
0409 991 851.